Welcome to RBF-productions-NL!
Welcome to RBF-productions-NL, a company dedicated to delivering high quality, custom made props and costumes. RBF productions stands for Rick Boer's Fantasy Productions.
Rick Boer is an auto-didact costumer, who has developed a plethora of creative skills that have been called upon by various international companies looking for unique and original ways to promote their products. We take requests for props and costumes as time permits, feel free to send us an e-mail and we'll see what we can do. Have a look around the portfolio to see our work!
Have an idea or request? Have a look at the about page for the services we provide.

Los Angeles update
Well hello there
It has been some time since we updated our website, but RBF has been very active!! We have made a quiet return to Instagram. Scan the QR-code to get there, or look up 'RBFproductionsNL' on Instagram. All updates on our creative endeavours are uploaded there. We have been honored to visit Paris Games Week late '22 to be there as 'Basim' from the upcoming Ubisoft game: 'Assassin's Creed - Mirage'. Not only that, but we are inbound for Ubiforward in L.A. to be there as both 'Basim & Roshan'.
We have worked with VelvetArt Videography in the past and were lucky enough to shoot again as Basim, when VelvetArt Videography visited the Netherlands on a family visit, all the way from China!! The results can be found in the Portfolio section.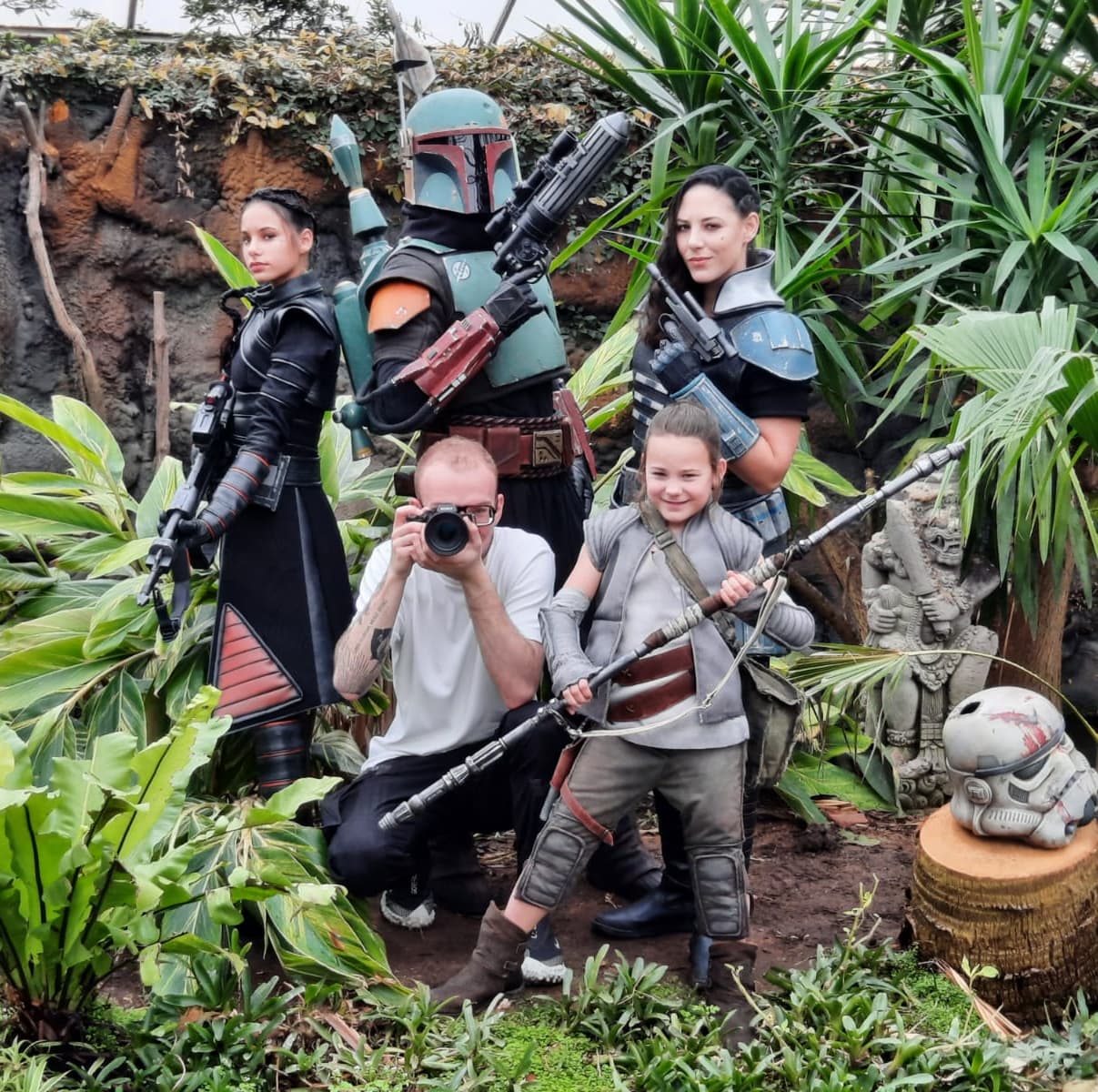 In the meantime... it would seem that RBF has found a new household photographer in the likes of Bart Corver (Instagram). If you want to shoot with him, please dm him!! We had our first shoot done to capture our new Star Wars costumes with him, wich we made for Star Wars Celebration London. We made new costumes for us and pur daughters and Bart captured them perfectly!!! We loved them so much that we also teamed up to capture our Assassin's Creed - Mirage costumes at a very fitting location. Check the portfolio section for his work.
Mighty proud of what we've done so far and 2023 isn't over yet. Stay tuned for more and please feel free to follow us on Instagram.
Now... let's go to Los Angeles!!!
- Rick
---
Summer 2022 Update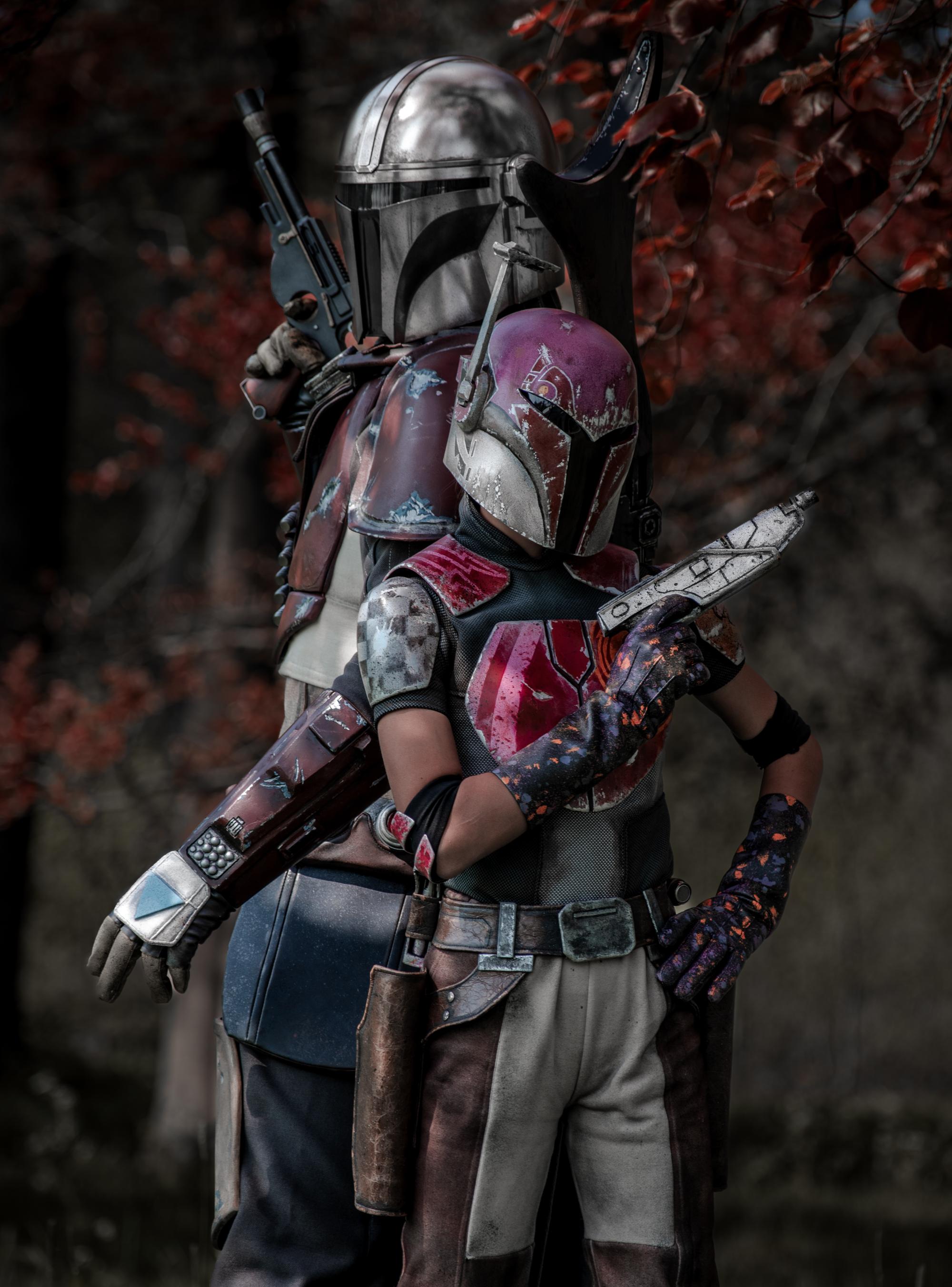 It's been a great summer! We had a few personal projects that we're really proud of; our daughter as 'Sabine Wren' for instance. She actually helped out in making the costume and we believe she's the best Mandalorian ever! Speaking of Mandalorians, after the Elf Fantasy Fair we got some intense pictures to show!
This is the way. By M.T photography
Stay tuned for more as another project is finished and about to be revealed. See you soon!
---
Early 2022 update!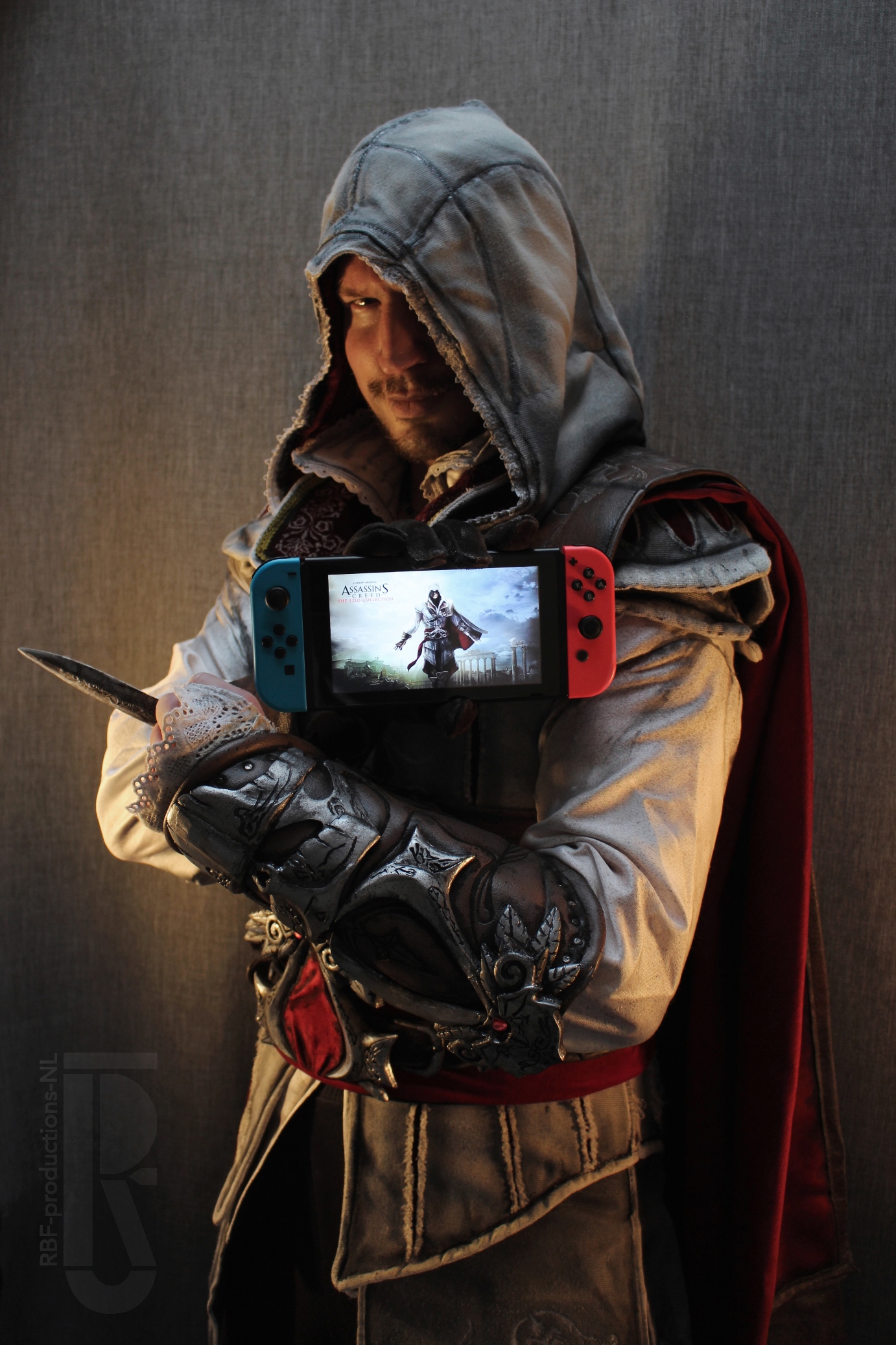 Hello everyone, we just started the year and we're already working on several projects. Some of them are Star Wars themed, so stay tuned for more content on that later this year. For now we just wanted to share this picture with you: Assassin's Creed 2 has found it's way to the Nintendo Switch!! We hope you (re)enjoy this epic adventure!
This title is the one that got Rick into cosplaying Assassin's Creed back in 2009. Ezio was not the first character cosplayed, but rather Altair from the first title. A quick shot of Rick's Ezio outfit, handmade by RBF-productions-NL back in 2017 to finish up the AC costume line-up that was to be on display at several conventions across the globe.
More soon!
---
This is... the Merry Christmas.... way (Winter update 2021)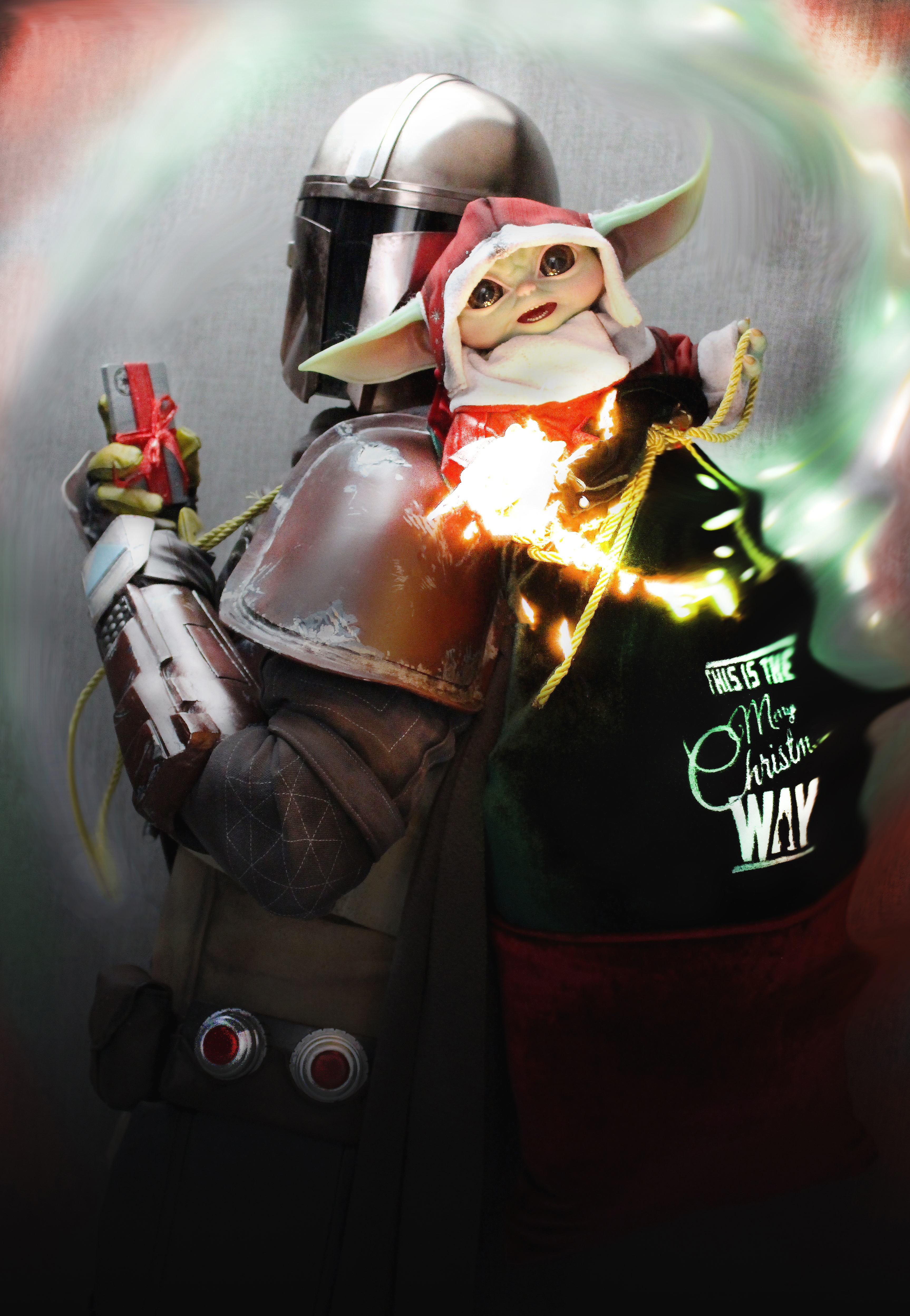 It's that time of year again...! Litteraly... We hope you are still okay. It's been nearly 2 years now of fighting this pandemic. Let's hope 2022 will see the end of it. Also... let's hope for some events where cosplayers can roam free once again!
For now we wish you all a very, merry Christmas and let's make 2022 a good one!
The portfolio has some Mandalorian updates, let's see what costumes and projects we'll pick up next year. Enjoy the season!
- Rick







---
Welcome to Yara! (Autumn update 2021)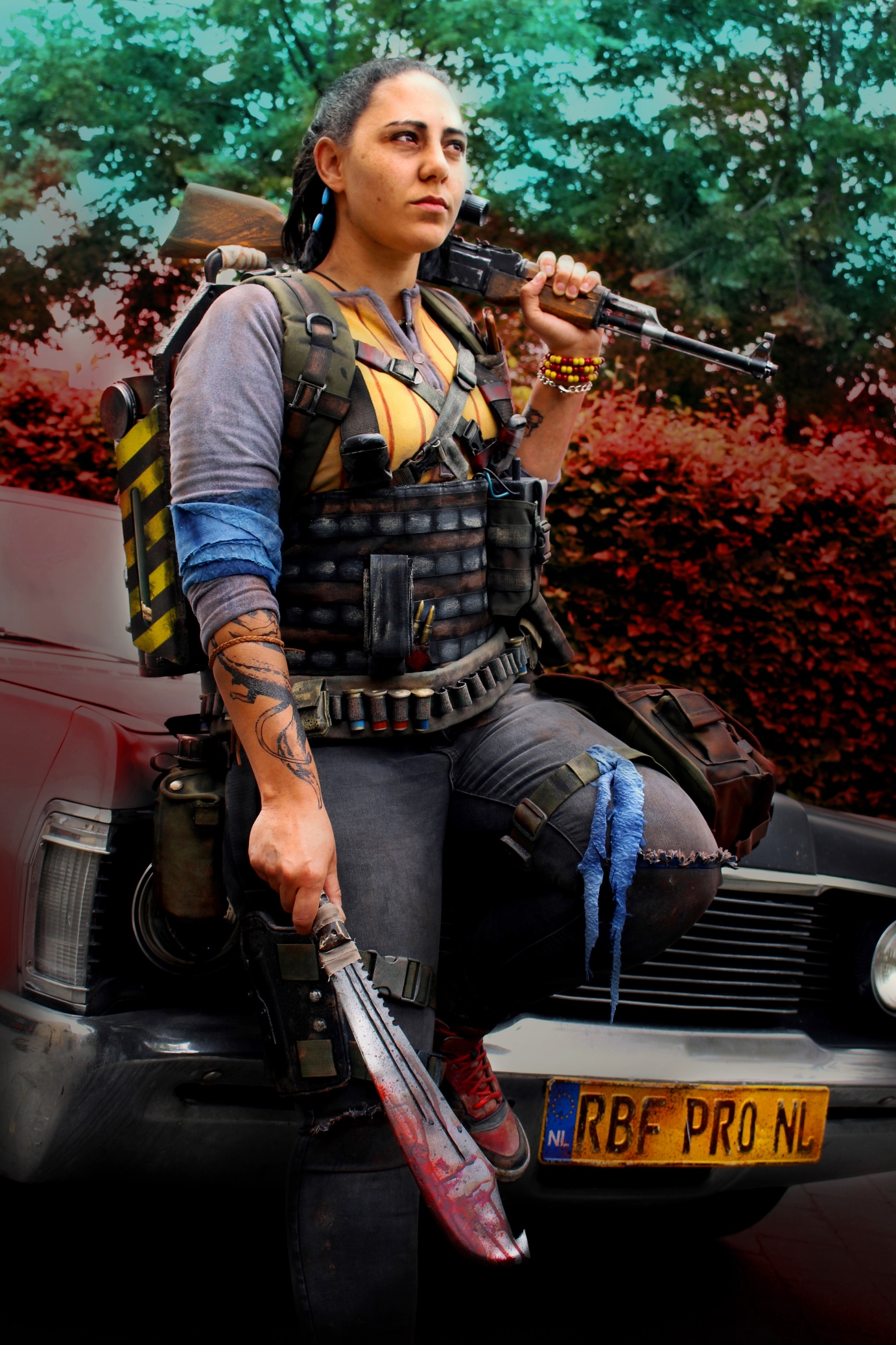 During the summer Ubisoft contacted me to see if there was anything we could do for the upcoming Farcry game and well... turned out there was! Dominique was able to crawl into the likeness of Dani Rojas, which worked really well for her, considering her Caribbean heritage. The costume was initially going to consist of just the base costume, but I really wanted to throw a 'Supremo Pack' into the mix. So via some screengrabs I was able to get some reference on it and made it happen, much to the liking of Ubisoft. Check the portfolio section for the results of last weekend's shoot.
Next to that, the work on previous diorama's had sparked Ubisoft's interest and they asked if it were at all possible to come up with one for Farcry6 that would contain a lot of the elements that are very important for the mood of the game itself. Ubisoft provided me with the 'Lions of Yara' figure and I made a diorama around it that has the look and feel of the Caribbean over it, as well as the duality of the main antagonist. Next to that it had to contain a controller dock that would allow you to charge two controllers on it. Check the work in progress section to see how the diorama came to be and you can see a video of it in the videos section.
A big thank you to Ubisoft, especially to the Benelux team!!!
More soon and stay safe!
---
D'Elenn turned 7!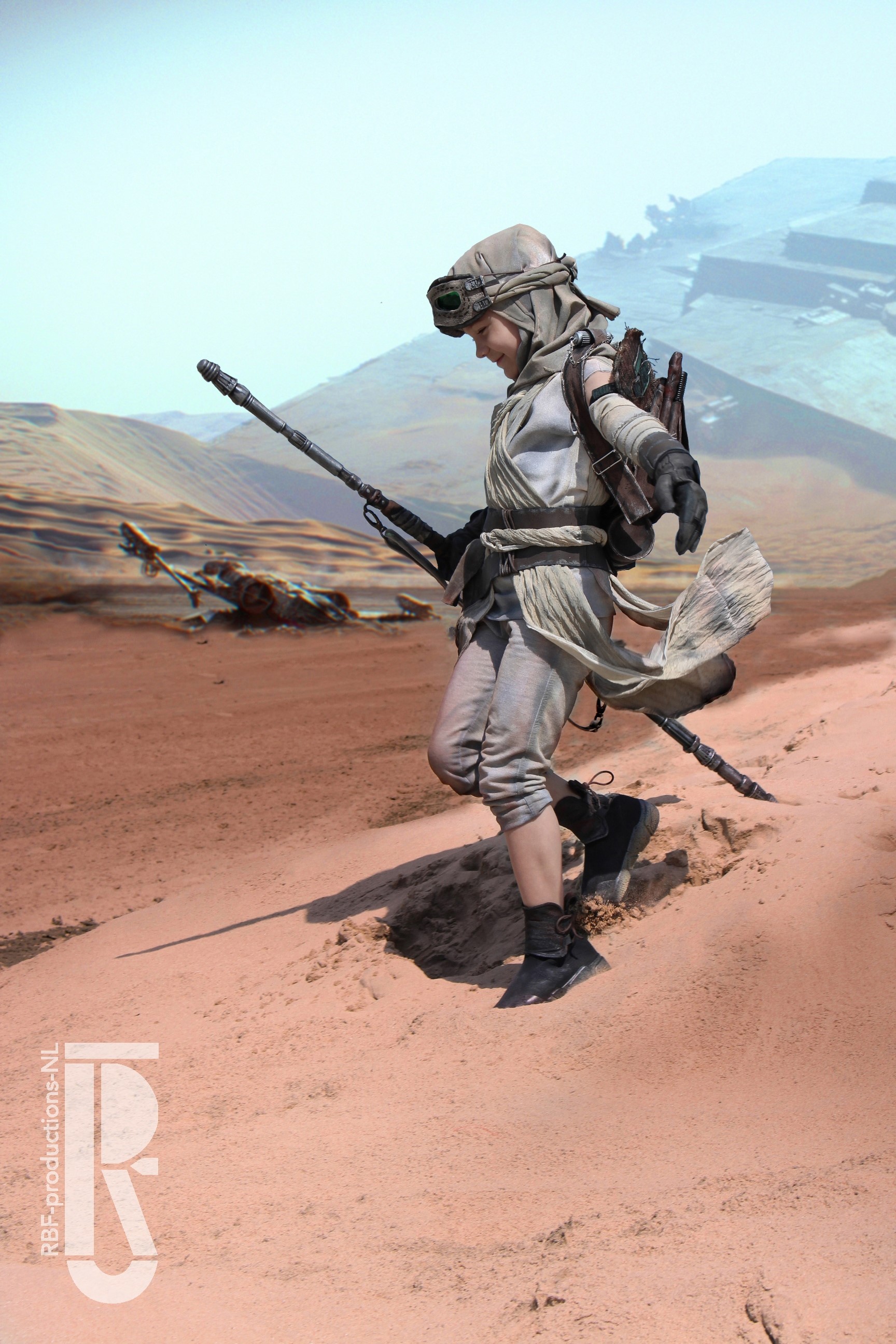 We had may break here and all was quite relaxed. Then D'Elenn came up to me and asked: "Dad..... can I be Rey for my birthday?' Eh.... sure? So 2 weeks later, well just watch the pictures in the portfolio section.
D'Elenn did so well, acting all tough and being surprisingly self-aware during the little shoot. We love the sequels so much as these are the movies we waited for in anticipation with the kids, and even went to the cinema with them.
Both my girls are really big fans of the strong female lead so yeah, it's a perfect time to be a Star Wars fan and we can't wait for the next chapter in this family entertaining franchise!
---
Spring update 2021
What a year 2020 was everyone said. Well, 2021 seems to be a bit more of the same. With E3's date coming near it's kind of like a milestone (in a negative way); it's not happening, again! Obviously health and safety come first but I suppose we all miss alot of things we hold dear by now.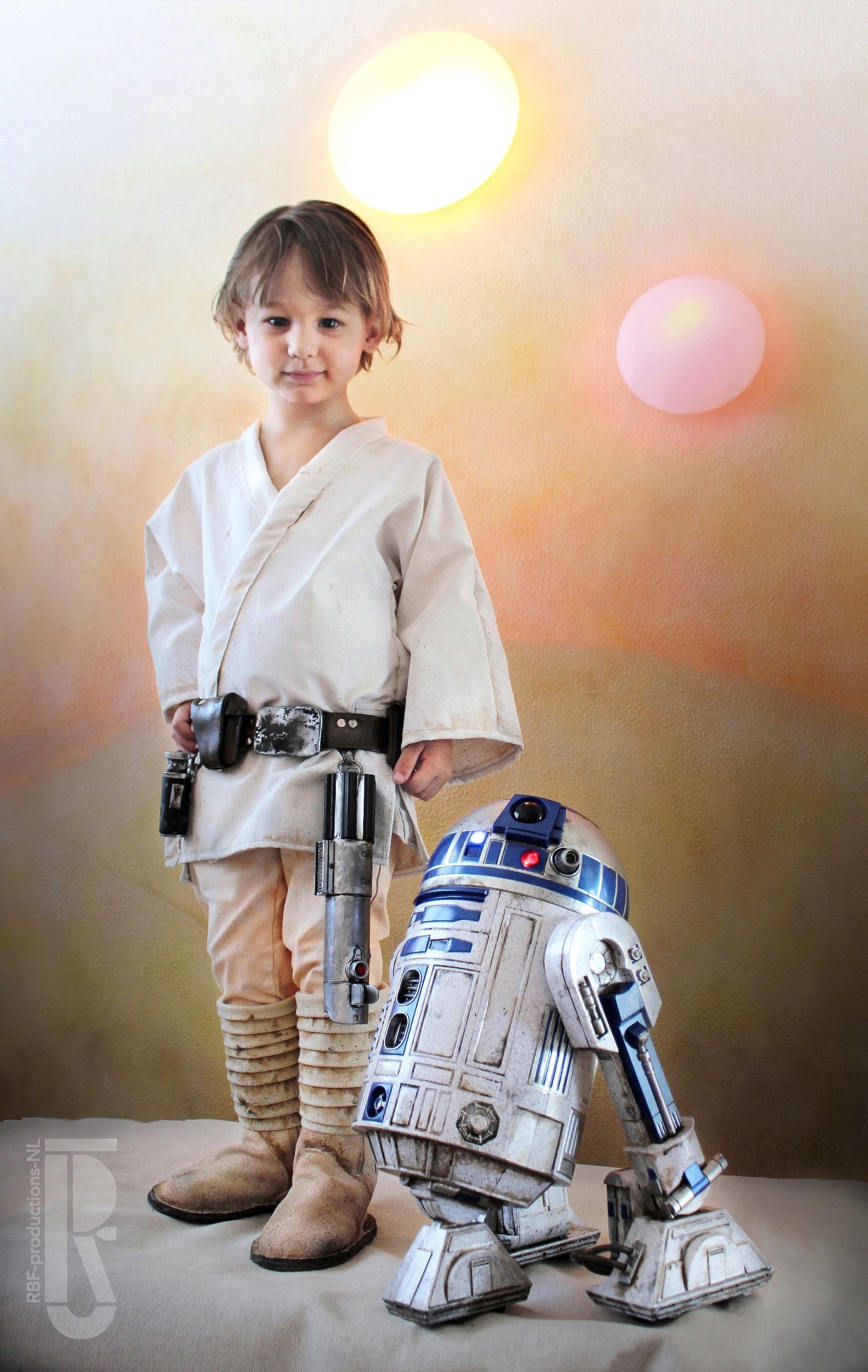 We are still doing okay and luckily we were still able to produce a few viral videos for Ubisoft together with VelvetArt. No events or promotional activities, let alone a (press) release party. Still, we were active with what we like doing best so all in all we were very grateful! You can find some of the videos here.
Our son Luke turned 3 and we upheld our little ritual of dressing up for the occasion. You can find pictures in the portfolio section.
Let's see what this year brings! Be safe and stay creative!
---
Summer update 2020
Hello everyone!
I hope your summer break was okay and that you are safe and sound. We had an amazing summer break ourselves, of course keeping all travel restrictions and safety instructions in mind and next to that we are still proud to say we got some epic creativity done as well!!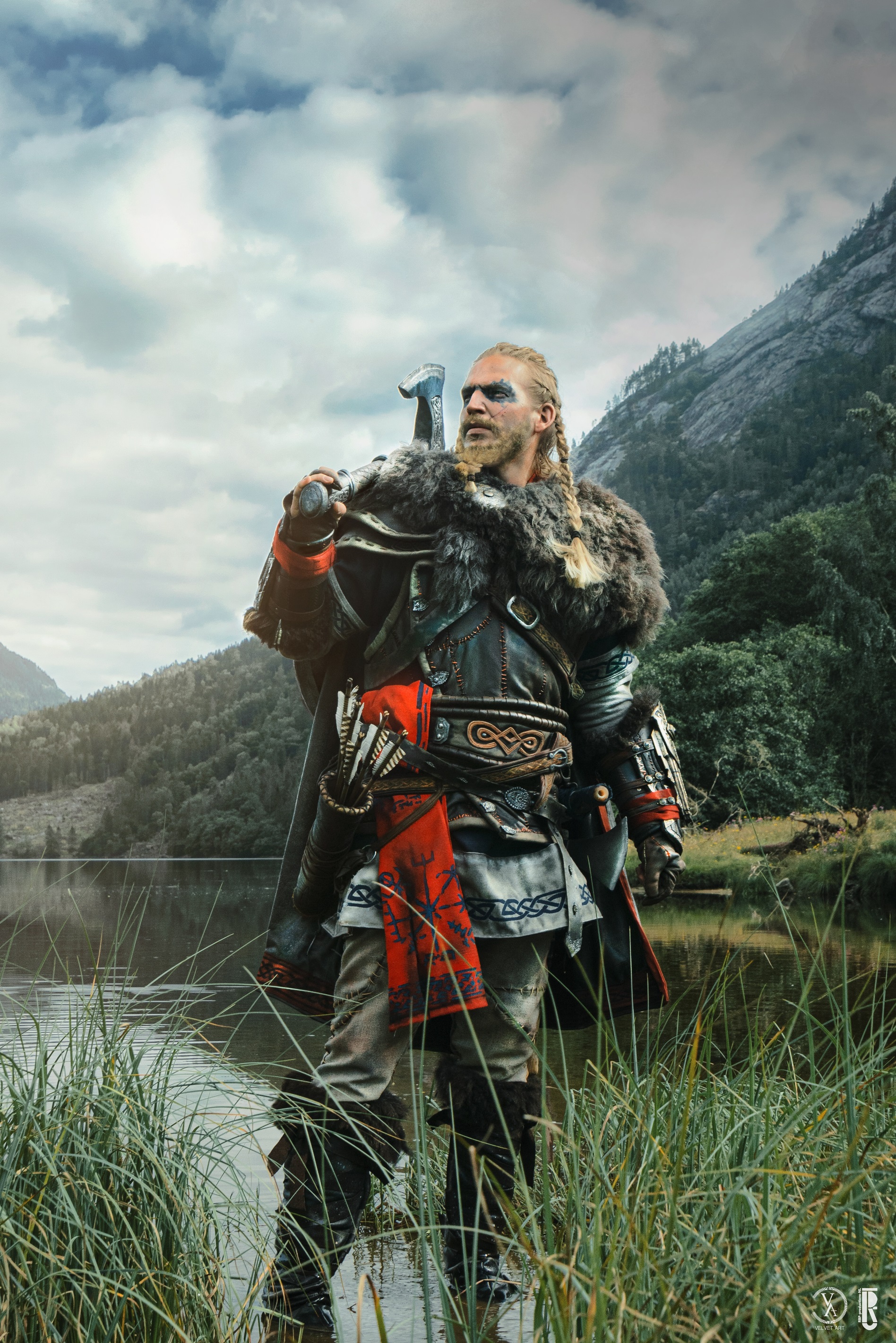 Having a brother in Norway certainly helps make things easy to get around, so when UbisoftNL asked for some Assassin's Creed Valhalla shots... We said okay... but I thought that doing that in Norway would be a bit more epic. Afterwards they were blown away by the results, so that was a nice surprise!
A big thank you to Ubisoft, VelvetArt, friends and family who watched over the kids and mostly my big brother and his family for making this a reality!!
Stay tuned because more is sure to follow!!
---
Early spring update
Welcome everyone!
Without any explanation required, I think it is safe to say the world is in a strange place right now. First off, I hope you are all doing well. That you and your loved ones are safe and that we can surpass this crisis in good health.
I think a lot of people are also hurt by the economic situation. Hopefully you can manage!!
All in all we cannot complain. Everyone is safe and healthy for the moment. That said, we were in the running for E3 so we were very disappointed that the event was cancelled. Of course we do fully agree it was the best decision to cancel it. Health and safety always come first 🙂
Anyways, we're but a microscopic particle within the entire E3 happening so a lot more people, companies were hurt a lot more than us. We wish you well and let's hope the industry and E3 itself will recover from this.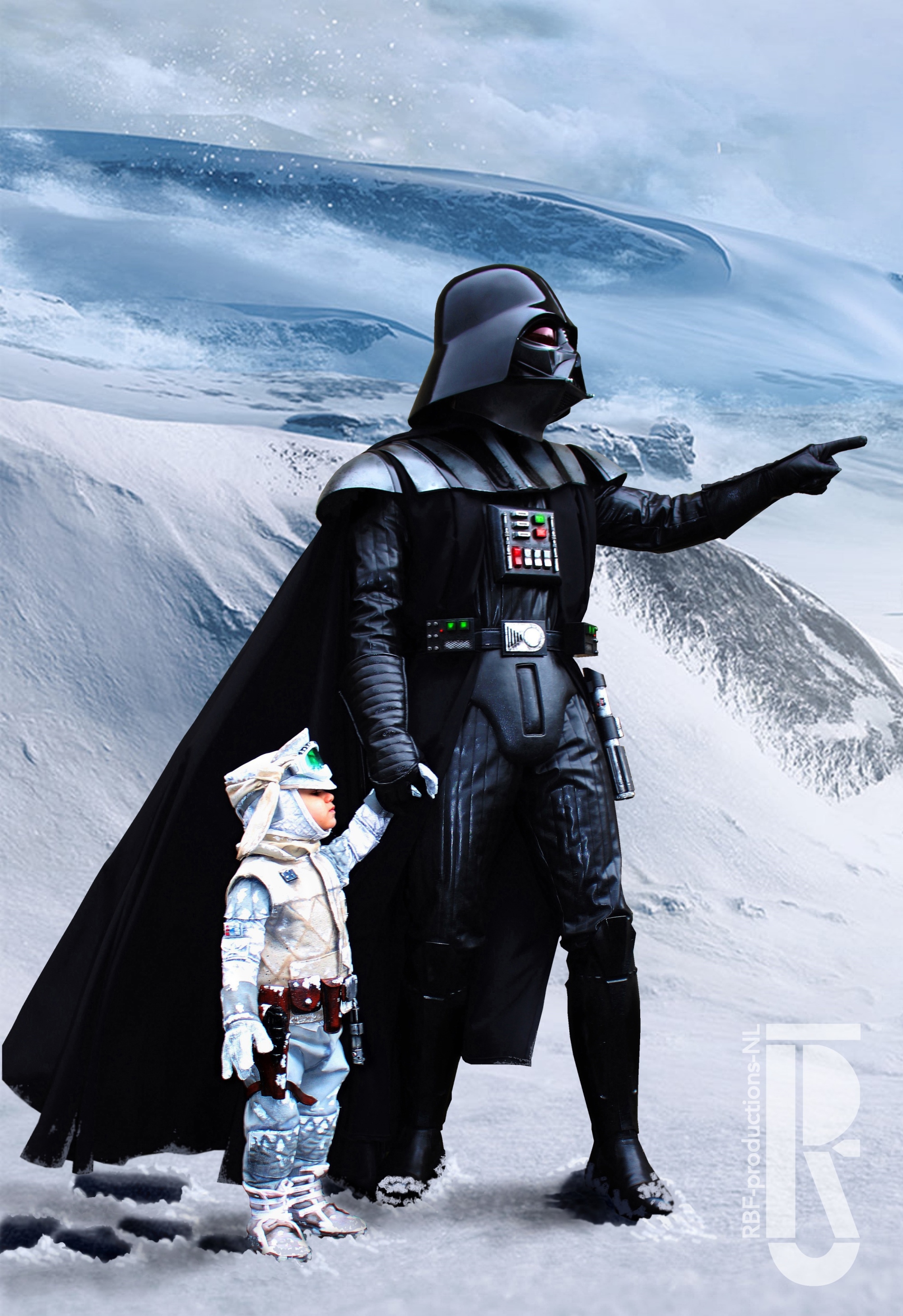 Now, some good news! Luke (our son) turned 2 last weekend (end of march). And as with his birth and first birthday, we couldn't let it slip by unnoticed. We made another picture together and the results are well.. pretty cute. Check out the portfolio section for the pictures of Luke in his Commander Skywalker outfit from Hoth.
Also, VelvetArt supplied us with the pictures from the Vader reveal session and wow… they're quite scary and came out perfect in our honest opinion! You can find them in the portfolio section.
It's just waiting and seeing what project will come up this season but I guess a lot of people are wondering what this year will bring given the current situation.
---
2019 wrap up
2019 is nearing it's end and we'll go down into the twenties. Hopefully you had a good holiday season.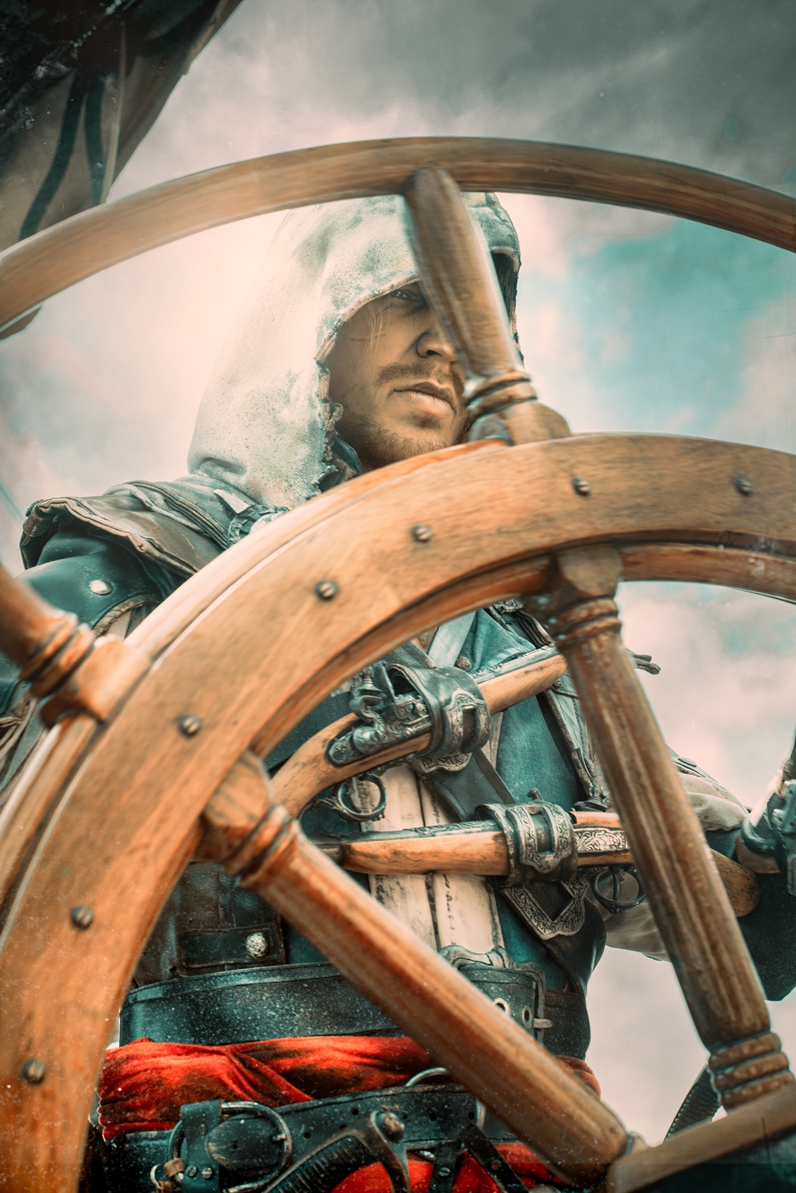 2019 was a good year for RBF-productions-NL, where we were able to make some new costumes, revisit some old ones and team up with talented people. In 2013 we worked together with VelvetArt for the first time on a production for Ubisoft; Assassin's Creed Blackflag. With the re-release on Nintendo's Switch we were very proud to be able to work together again on a Blackflag production, once more under the banner of UbisoftNL. Here's a picture to show you some of the results but please do check out the portfolio section for a few more epic shots by VelvetArt. We also added the pictures from our shoot with The Companion photography and KadArt cosplay to the portfolio.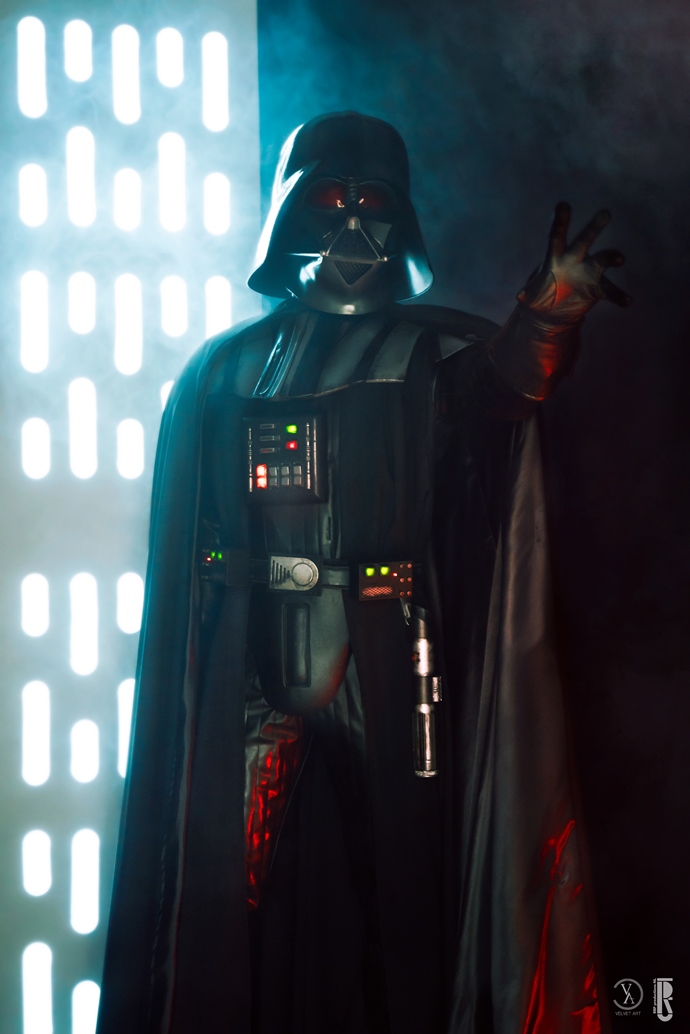 Obviously that Galaxy far, far away has been prominently present in the last months of 2019 and we couldn't let it slip by. Working on a Darth Vader costume was a lot of fun! The project has been running for a couple of years and every now and again we work on it. This time we tried out some make up work, check the work in progress section for an update on the 'Darth Vader reveal helmet' version done by Rick. We made a Death Star wall panel that lights up, hung black curtains in the shed, put the panel in, lit up some fireworks in a bucket for the smoke and then VelvetArt got this amazing shot done! The setting was heavily inspired by the character selection screen from Star Wars Battlefront 2. We'd like to think we nailed it! We'll have more pictures from this shoot, including the Reveal version soon. For now we want to thank everyone for their support and enthusiasm and wish you the very best and loads of creativity for 2020!!!
May the Force be with you!!
---
Autumn Update
After E3 summer began and we thought we could take a breather… Well… we didn't really and that had nothing to do with the heatwave that was going on at the moment! After returning from a very successful E3 event, Rick went to work on some commissions, amongst which was a certain Sneaking Suit. You can find a picture of the finished suit in the WIP sections. We think it came out quite nice and we're happy to say the person who put it to use was also happy with it!
That wasn't it though. The Dutch Ubisoft team commissioned a costume from their Ghostrecon franchise; Cole D. Walker, portrayed in-game by no-one less then John Berntal (Walking Dead, the Punisher). There's a few pics in the Portfolio section, aswell as a WIP of the helmet in the WIP section. We did a few cool activations with Walker aswell as a very awesome photoshoot and I think we can toast on another successful Ubisoft adventure!! We'll upload some more pictures from the shoot upcoming month, as Ubisoft releases them.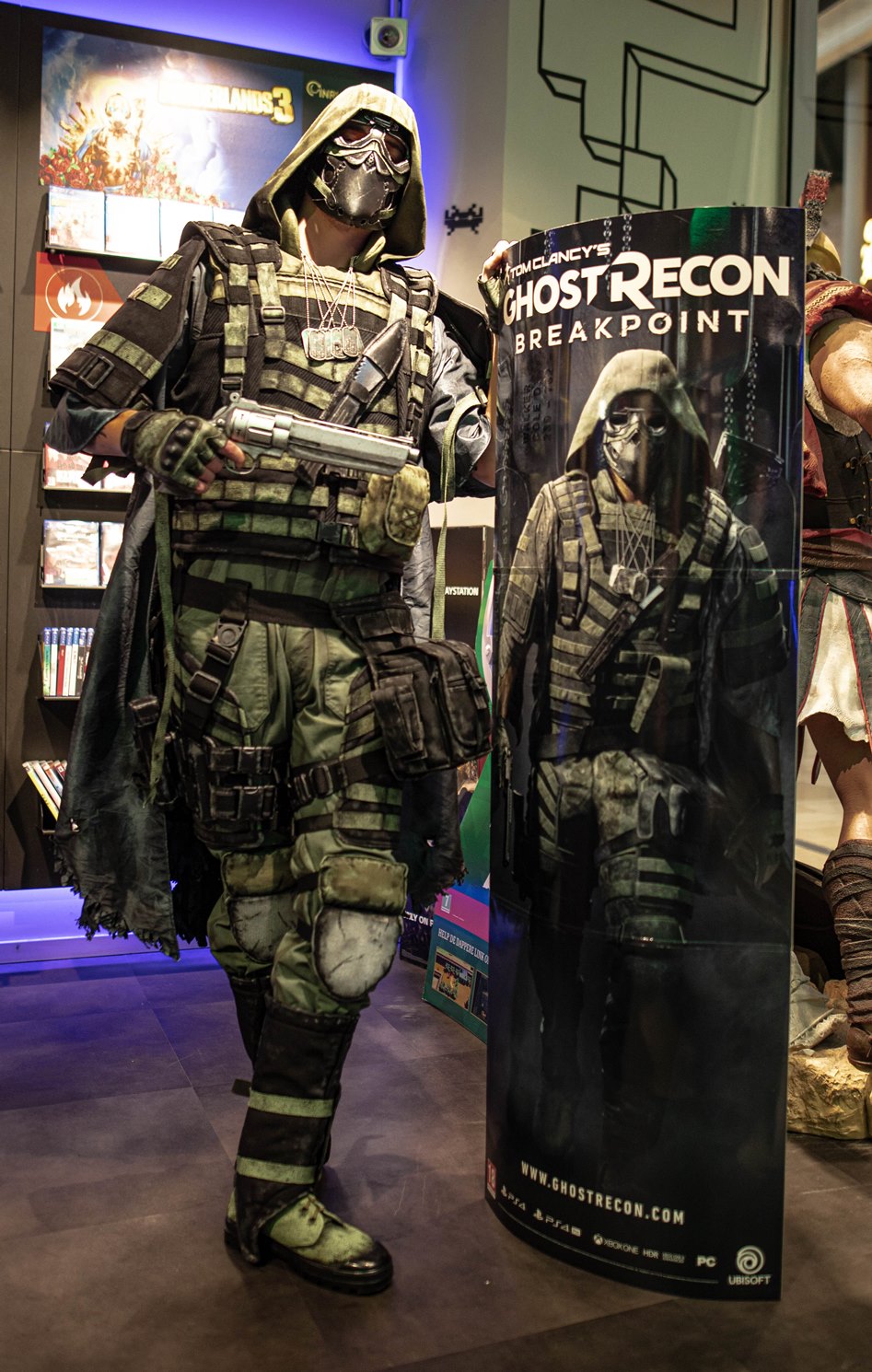 Speaking of Ubisoft adventures, before Walker was even finished we got a last minute call to go to Gamescom in Cologne Germany. We were not expecting to attend at all, so when we got the offer to come over and help promote the Assassin's Creed Symphony Orchestra… we were quite amazed!! It was great to be a part of Gamescom again. Not only that, but after remaking Altair and wearing it in Los Angeles at E3, it was just a great joyride to also represent this long-loved character again at the awesome convention that Gamescom is. The Orchestra was like a teaser for the full show but it was enough to deliver quite high levels of goose bumps.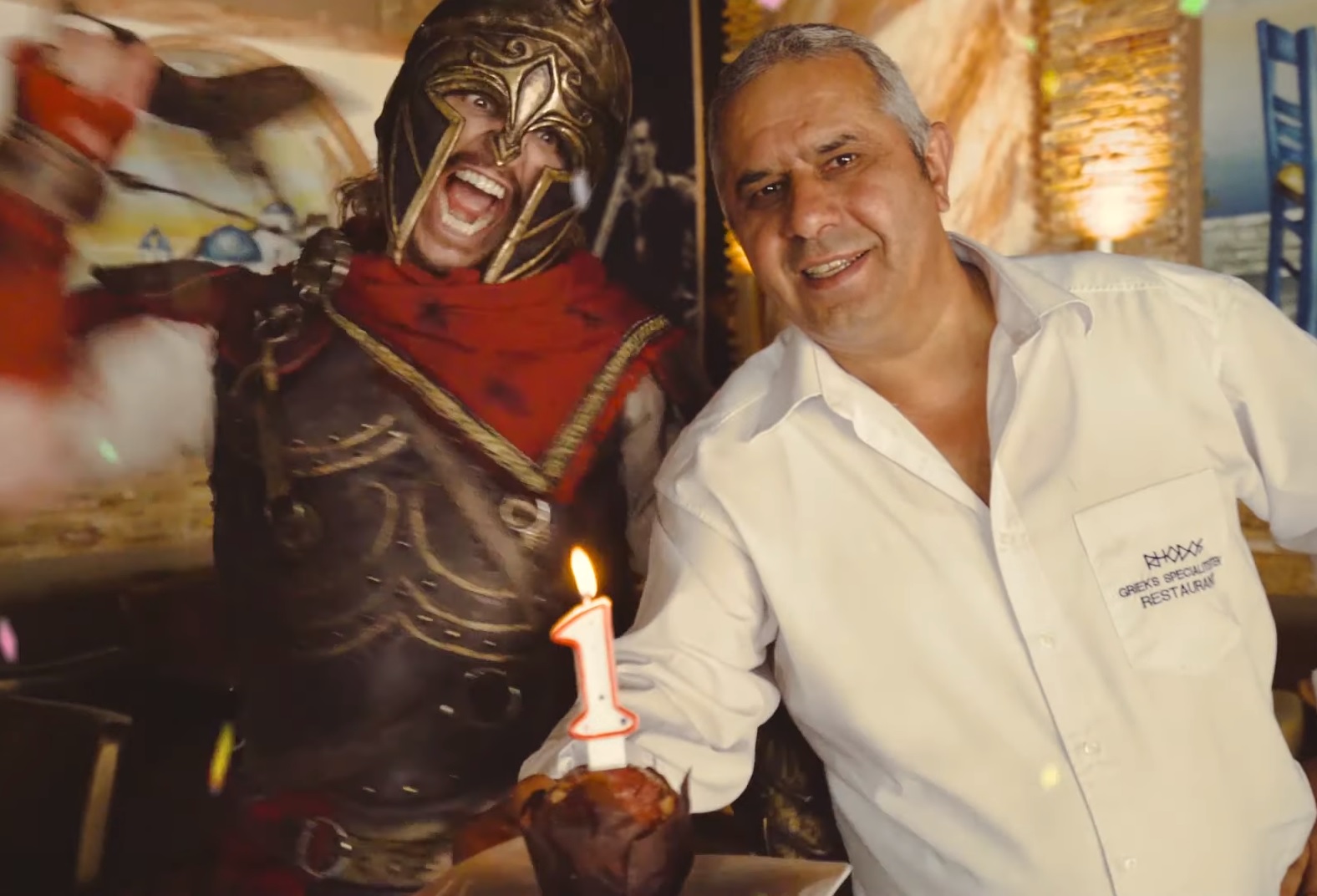 Well that was it for... no. It wasn't! Assassin's Creed Odyssey hit its first birthday and yes, UbisoftNL decided they would want to make a video to celebrate its anniversary. That's not all we shot that weekend you know... But there will be more of that later this year. Check out this video shot and edited by VelvetArt Videography.
And here we could have decided to take things a little easier… but no. We teamed up with fellow artist and costumer KadArt cosplay and did an awesome photoshoot with perhaps the 2 most legendary characters in the entire Assassin's Creed series; Altair and Ezio. KadArt portrays Ezio Auditore, the costume of which he himself manufactured from scratch. It's one of the most detailed and time-consuming costumes you'll ever see. Sarah Jenak from Jenak Photography was kind enough to lend us her talent and shot some amazing photos of us. More can be found in the portfolio section.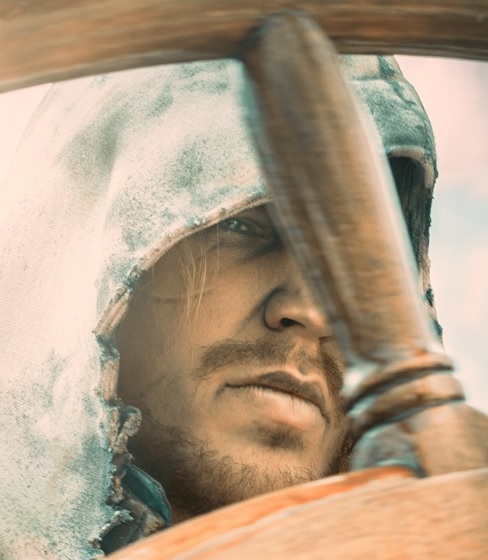 I for one can't wait for a certain Pirate game to hit another console the upcoming month and well... I just can't contain it; here's little teaser... Like I said we'll have some more content to upload the upcoming month.
Finally, a big thank you to the UbisoftNL team!! It's great to work with you!!

Thank you for dropping by and stay tuned for updates!! - Rick
---
E3 Report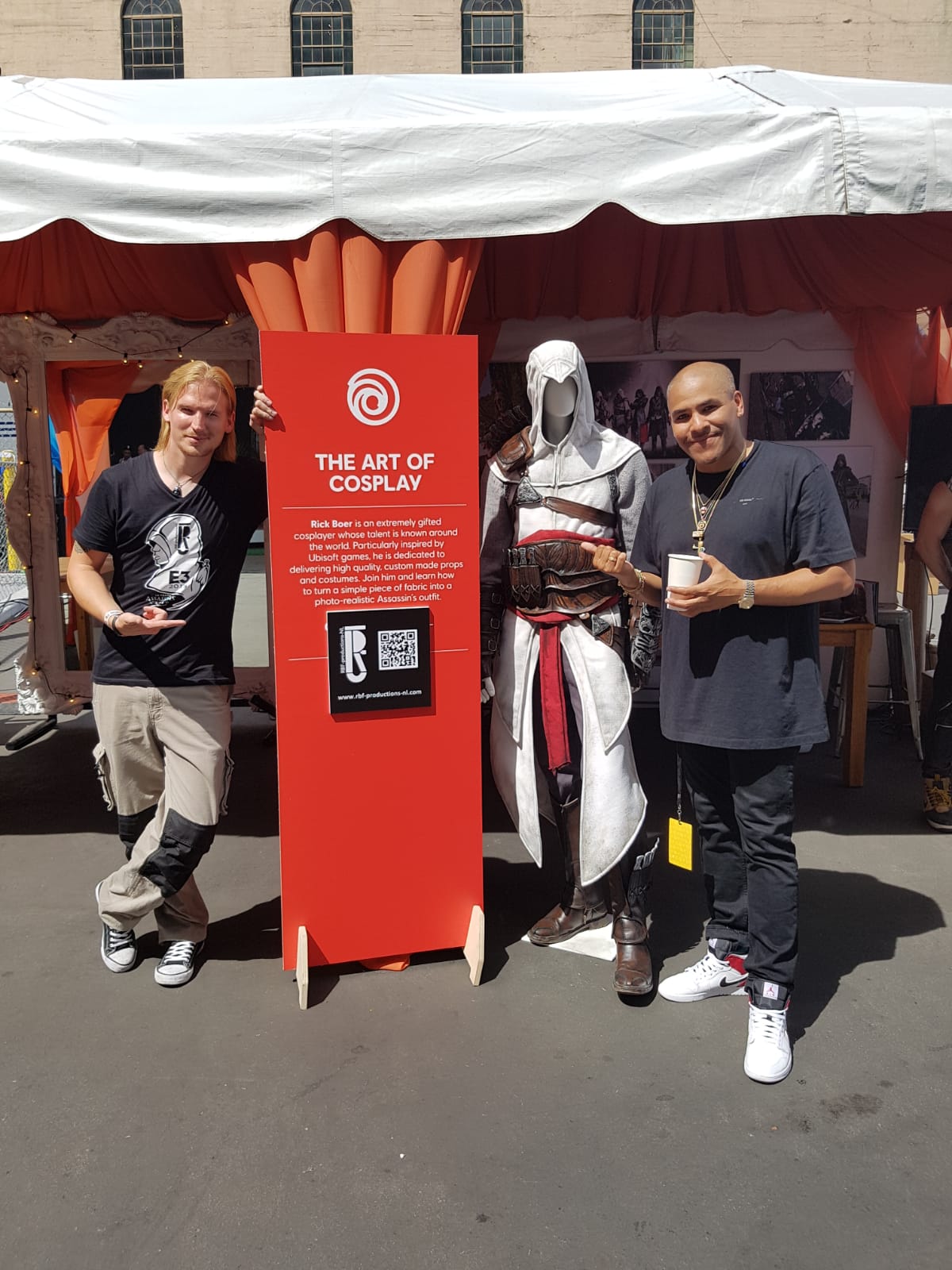 Sunday june 9th was the big day!!! Flying off to Los Angeles again! We were contacted by Ubisoft to be there and help represent a creative group of followers sometime around Gamescom last year. After talking with the man himself: Leon Winkler, who also just happens to be one of our strongest supporters, june 2019 finally came.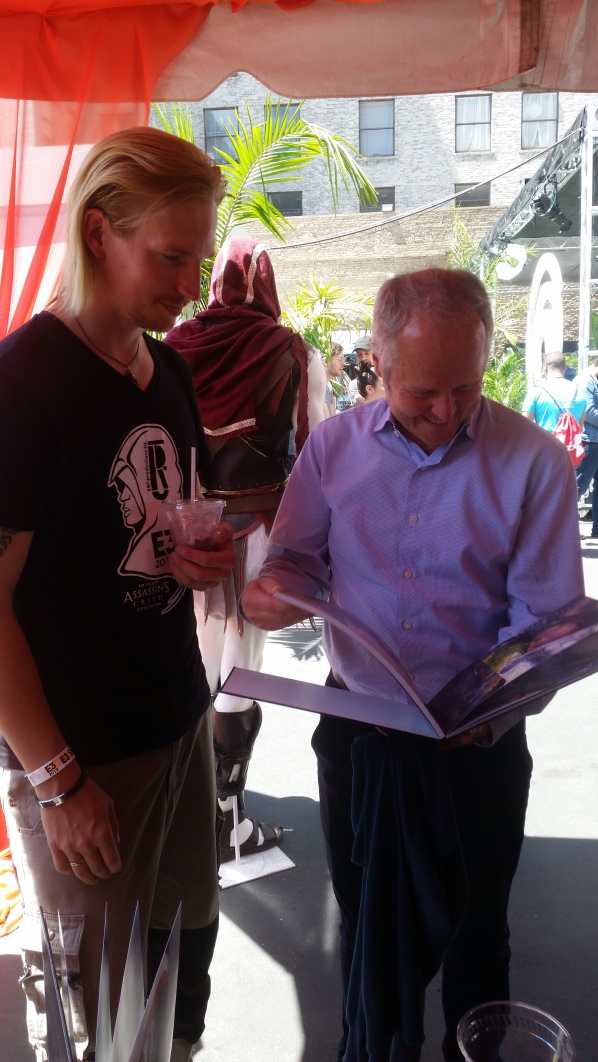 We were going give some workshops about sewing and weathering techniques, but we also pitched our own story; 10 years of Assassin's Creed costuming for Ubisoft. Let's redo the first costume I ever had the pleasure of wearing for Ubisoft and show the creative growth we have endured during the last decade. We got our own table, right next to the immensely popular and positive force of nature: Leon Chiro. We did a few weathering techniques under the hot burning Californian sun, showed our work and told our story. It was awesome!! We also went to the con and had a blast there! It was awesome to get such a good response to our craftsmanship as well as the good response to being Altair again, a very much loved Ubisoft character in general.
All in all, it was an intense and insane adventure and the best kick off of our new platform. Instead of a magnum opus with every iteration starting with: "And then the costume maker went to Mordor…", please expect more pictures then text. Hopefully the work and visuals will speak for themselves. We really want to thank everyone again for dropping by and we really appreciate all the feedback you are giving us. Next update will hopefully (No guarantees..!! Rick let's his creative juices flow as time permits) include more Jurassic Diorama's (Rick's in a prehistoric mood), a western style photoshoot with a certain Mr. Marston and a an assignment for another cosplayer in the form of a "Solid Snake" sneaking vest. Be cool, be creative and be safe!
All the best, RBF-productions-NL

We appreciate you dropping by and please enjoy it's contents. This website is the only official online source for keeping posted on any projects being worked on by RBF-productions-NL. Feel free to subscribe to the newsletter that will let you in on any news or project updates related to RBF-productions-NL. Do not hesitate to contact RBF-productions-NL if these abilities could be a great asset to your own creative endeavours.